TO THE WOMAN IN IOWA CITY WHO SOLD ME A COAT
LETTER TO A STRANGER
TO THE WOMAN IN IOWA CITY WHO SOLD ME A COAT
BY MILAGROS SOCORRO
"Hey! Hey!"
I was about to enter the elevator when I realized that it was me he was calling. There was no one else in the hotel lobby.
"Where are you going?"
I approached the counter where the night shift employee, a man over sixty, sat. In that hotel, which was run by the University of Iowa, the receptionists were students who worked during the day and retired people who worked the night shift. It was almost sunrise. I had left the hotel to make my daily walk along the river, but had returned after a few minutes.
"What happened?" asked the man at the reception. Every morning, I greeted him halfway between the elevator and the revolving door, the last filter of the outside world.
"It's very cold. I was afraid," I said.
He laughed a little bit.
"No way! That's not cold," he said.
"I'm from the Caribbean."
"Don't be silly," he said. "Go back to the street. Walk fast, and you'll see in a few minutes that you'll have warmed up."
So I did, but not before going up to my room to grab a white pullover made of wool. It was really cold. When I passed by the receptionist, he gave me a supportive smile. He was right. Within a few blocks of walking, the sweater was no longer necessary, so I took it off and continued to walk with it folded on my arm.
*
The pullover wasn't mine. When I sent an email to its owner telling him that the garment had returned from the cleaners, and that I could send it back to him, he said that he would give it to me. He would have to leave it in Caracas anyway. He had to flee when he became a target of the regime for his work organizing the campaign for Henrique Capriles Radonski. I had borrowed his pullover during a tour of the Venezuelan Andes. Randonski's campaign organizers had invited groups of journalists to take trips with them around the country, and I had been asked to travel through small towns in the states of Mérida and Trujillo. Given my inveterate lack of preparation for packing, I didn't foresee that the páramo, the high plateau that we would be crossing, would be cold. I didn't pack a jacket.
It was August, a month in which all of Venezuela is hot—in some places, it's stifling—but not in the Andes, especially in high mountain villages. The trip started in Tabay. When we climbed up to San Rafael de Mucuchíes, it was twelve degrees Celsius, and began to fall as the afternoon progressed. I went through the tiny, charming town interviewing its kind inhabitants and taking notes in my notebook, until the feeling of being frozen stopped me. My first intention was to find a shop so I could buy one of those ponchos woven in raw wool, which the locals wore with customary elegance. But the few merchants of Mucuchíes had closed their businesses to participate in that sort of patronal feast of meeting a national politician. I was in line to order a cup of hot chocolate in a cafeteria carved in the mountain stone when one of my traveling companions came in, the owner of a brand new white pullover flashing in the middle of the wasteland. He didn't seem to need it; he wore it on his shoulders, more as an ornament than as a coat.
When he offered it to me, I promised him that I would return it to him on the bus.
*
On the bus, the cold became silent and devious. He refused to take the jacket.
"I'll give it back to you tomorrow," I said. But the next day, the expedition went through Santo Domingo, Pueblo Llano, Mucurubá, Pico El Águila, Chachopo, Timotes, La Puerta, Mendoza Fría, Valera, and San Rafael de Carvajal.
"Believe me," he said. "You'll need it. Take it easy, I brought another one."
*
When the pullover returned from the dry cleaner, snowy and fluffy, its owner did not answer the phone. He had another phone number, from San Juan, Puerto Rico, where he had to take refuge. A couple of months later, I took the pullover with me when I traveled to Iowa to participate in the International Writing Program. Scarred by the Andean experience, the first thing I packed was the hooded sweater. I spread it across the bottom of the suitcase with its hanger and transparent plastic cover.
After that morning, intimidated by the coldness of early October in Iowa, I spent several days in the white pullover with three layers of clothes underneath it. But there eventually came a time when this was not enough. I still had several weeks ahead in that frozen place.
*
Venezuela's presidential election for the period of 2013-2019 took place on Sunday, October 7th, 2012. It was one of the worst days of my life. With the exception of Chris Mlalazi, a writer from Zimbabwe, none of my colleagues could conceive how disastrous the fourth re-election of Chávez in Venezuela might be. In the following days, I sank into despair. With my forehead against the window, I contemplated the lazy Iowa river, and closed my eyes to scare away the horrible visions of the destruction that would haunt my country. Every day it was colder. The cold of San Rafael de Mucuchies was a warm breath compared to that. I had to do something.
Winter is a science. If you don't learn it as a child, it's an occult science. Those who are accustomed to buying coats don't know how complicated it can be. Naturally, I had no idea—I still don't—of the codes that govern winter clothing. Materials, colors, cuts, trends… I wanted something that would cure me from the temptation to go around the revolving door and return to the heated lobby forever. I wanted something that would dissipate the steppe that frosted my heart when thinking of my country condemned to limitless oppression and impoverishment. I wanted something that would warm my chest and my soul.
*
The small store was softly warmed up and I stayed there for a long time. I tried on many coats, but all seemed insufficient. Finally, I found a scarlet red tube, padded, with a hood and a kind of membrane that came out of the cuffs to adhere to the hands. I searched everywhere and could not find the price (what can an ignorant know about the cost of coats?).
And then I saw you at the counter, a blonde woman, very tall, slender and sophisticatedly dressed. In an educated voice, you informed me that the coat cost more than I had budgeted. The truth was that I had no more than that. I looked through the window and saw the people passing by. Leaning forward, they cut through the gale with red, cold noses.
"I'm Caribbean," I explained. I didn't specify that I was Venezuelan. The possibility that you wouldn't know about the existence of my country and didn't care about our fate was unbearable.
"I'm cold. And I have this to buy a coat."
I put the dollars, one next to the other, on the small glass counter, where there were tiny evening purses and shawls with edges embroidered with beads. You were folding scarves with the grace of a Russian ballerina. Your hair fell on your face like the curtain on an opera.
You looked at me. You did not examine me. You just looked me in the face.
"You are cold. You need a coat. And you only have this amount," you said, like someone who talks about a film with a forgotten cast and plot.
"Exactly," I said.
You looked at me for a couple of seconds, not to check whether or not I was telling the truth, but as if to guess what the house of my childhood had been like. And you took the dollars with a precise and luxurious gesture, like a croupier.
You may not remember this, but I will never forget it.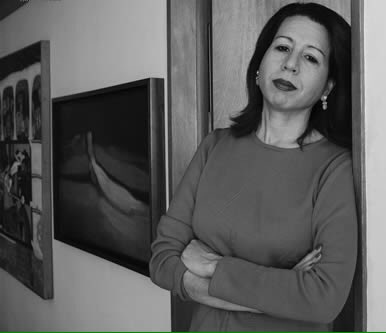 Milagros Socorro is a Venezuelan journalist, writer and university professor. She won a National Journalism Award in 1999. In 2018, she received an Oxfam Novib/PEN International Award for Freedom of Expression, for her work in the face of threats and harassment.
Translated from Spanish by Milagros Socorro.
Header image by Caleb George.