EKLAI
EKLAI
Nepali, adjective.
Alone.
By Julia Thomas
When you begin to learn a language, numbers often come first. Somewhere after memorization of basic grammatical structure and necessary pleasantries, the counting starts and repeats itself. You begin with the number one, rolling over the contours of a single word like you're balancing yourself to stand on a stone. From there you will jump to a clustered bunch of vaguely remembered vocabulary. Alone, at the first word, and then moving toward something like community, in your willingness to fail and make a splashing mess of the language as you reach toward understanding.
Geeta, my Nepali tutor, taught me numbers, one to ten, about a week after I arrived in Kathmandu. Within the next two meetings, we climbed to fifty, and I learned the terms to indicate counts of one hundred, one thousand. She wrote words on a dry erase board and I copied them down on loose leaf paper. My writing on the first days of class was precise and patient, documented in the hopeful, clean handwriting I often use when I open a new notebook, energized by emptiness. The notes lived in a folder in my backpack but crumpled almost immediately, Nepali words and definitions scattered in scribbled haste across the pages.
I would be in Nepal for about two months, I told Geeta. It was the first country I was visiting during a year long research fellowship on local media practices across the globe. I was traveling independently to six countries and working with journalists as they pursued stories, with the hopes of exploring the dynamics of community reporting.
When I arrived in Kathmandu in early August, it was the end of monsoon season. Water flew from tires and sat in puddles on the roads. Mornings were hot, dust rising under persistent traffic, easily tempered by warm afternoon rains. The small Ganesh statue carved into the wall along a hill near my house harbored an audience of candles with damp wicks.
Geeta and I quickly got to know each other in one-on-one near-daily meetings, two hour sessions in a blue walled room, ground level of her house in Kathmandu's Dallu neighborhood. The questions we would discuss in Nepali, she said, might feel boring or repetitive at times.
"Are you traveling saathi sanga?" She asked. Are you traveling with friends?
I had just started the year, guided by "purposeful, independent exploration," in the words of the organization supporting my work. I was meeting people in newsrooms and saying hello to shop vendors, riding on the back of a motor bike to capture the harvest of marigolds for the festival of lights, Tihar. I was reaching out based on the recommendations of journalists I met, meeting editors in their offices or photographers in cafes.
My plan was to remain in Nepal for seven or eight weeks. I had gravitated to Nepal as a place to begin the project because of friends who had traveled there and piqued my interest, a professor who invited me for chai and a conversation about its history in his office.
The first Nepali community radio station launched in 1997, leading the way for independent radio initiatives in South Asia. Hundreds of stations began broadcasting across the country amidst Nepal's transition to a multi-party democracy, spreading like vibrant symbols of free movement and expression, hungry to speak and be heard on their own frequencies.
Radio is still prominent in rural areas, people told me as I prepared to go, but media dynamics are shifting in urban areas to accommodate for the transition to increasingly digital formats. The history fascinated me and seemed important as a first foray into understanding the roots of community radio, voices on the waves.
Something resembling a possible patchwork community stuck as I tossed introductions into the dark. Phone calls and emails led to connections and a possibility of working at a weekly newspaper. I found a house where I could stay, for cheap and with other young people, a mix of locals and foreigners. It seemed like a comfortable starting point, this semi-structured dive into drafting a year blank of obligations but with possibilities in pencil, loose strings to hold onto.
Still, the language divide lingered as an obvious barrier. Radios would broadcast primarily in Nepali and the majority of media, information, would circulate in vernacular languages, of which Nepal had over 100. How much could be meaningfully understood and exchanged in Nepali, I wondered, within the span of three months? Realistically, not much.
One night, late in a hotel bathroom, I tapped my toes on tile and spoke on the phone with a historian who told me that my time would be wasted since I could not speak the language. The substance of the media reaching your average person on the street would mean nothing to me, he pointed out firmly. Others were more optimistic, said Nepali was possible to learn quickly at a basic level, relatively simple if you removed it from its skin of character.
It would be an exercise in learning to listen, I decided, stripped of full accessibility to communication. I was eager for the openness of the project and intensity of immersion, prioritizing language learning as a central component of being in Nepal.
From the beginning, I responded to most possibilities to talk to people, to pursue any conversation, with an emphatic yes. But I was indeed, more broadly, a single, directionless human, eklai. The word came up quickly, and stuck around.
In Nepali, eklai means alone. Broken down further, it condenses to ek, a count of one. A word so nondescript and common it is in fact the opposite of alone, grouped rather into everyday, think-nothing-of-it vocabulary.
Taxi drivers asked, eye contact in the rearview mirror, if I was visiting alone; ma eklai ho, I said. My friends at the Nepali Times newspaper, amused, prompted me to speak and I would recite, from ek to dasa. One to ten.
As I became accustomed to most basic banter and explanations of my time in Nepal, eklai resurfaced constantly, as a necessary word for explaining the nature of my visit. I was by myself, yes, but not with the hopes of being alone at all.
I was a traveler, not quite living in but not quite passing through Kathmandu. After a couple of trips to other parts of Nepal I would feel a rush of familiarity whenever I came back to Kathmandu, walking faster with my bag, dusted from its ride on the bus floor, as I approached the house I called home. I had established a vague sense of knowing the city and still stayed floating, delightfully untethered.
Nights often came to a close with long talks on the porch with housemates, with the orange glow of Pashupatinath Temple and a lazy, blinking red billboard across the river breaking up lines of sleeping buildings. Mornings, I walked alone between the spaces that defined my days in Kathmandu, absorbed directions and repeated them to myself as I went. Eventually, I would establish usual meeting places with friends and rush without thinking when I was running late, head to Cafe Aamu to sit and chat without agenda.
Listening to conversations in Nepali, my ears tuned for familiar words to catch in translation. Once, I thought I heard a journalist, Ashok, begin his interview with eklai and recognized a sound I wrongly assumed to mean one, ek. We were sitting on the floor together, cross-legged with tea cups near our knees, as he spoke with a woman he had met with for a story. They talked casually at first, smiling, before he picked up his pen.
To start things off, firstly…, I understood him to be asking. I assumed it must function as an introduction and launch into conversation. This made sense to me, softened the blow to direct questioning with an extension of ek, one, to eklai, firstly.
I held onto this definition by opening interviews with eklai while covering local elections in southern Nepal. On my first solo trip within the country, I boarded a Jeep to Birgunj alongside about eleven other passengers. I had planned to spend the ride thinking about interview questions, practicing the Nepali words for topics I'd gone over with Geeta. Instead I fell asleep, partially aware of the jumps over mounds and potholes when we crossed the mountains. My pen rolled on the floor.
My first interview with a candidate for mayor happened the evening of my arrival. A local TV journalist, whom I'd called and spoken with before arriving, took me to a building inside a gated complex where about five local politicians sat in chairs. They were ready to speak with me, he explained, in the blend of mostly English with broken Nepali that we used to communicate.
I was unprepared, suddenly gripped by a total uncertainty of what it was I wanted to know. Notebook opened to blank page, I turned on my recorder and waited for chatter to fade, questions turning in my mind. I began by trying to build a skeleton of essential information. First, though, came eklai. Tapaaiko nam ke ho? What is your name? Why are you running for mayor?
The questions edged toward the more specific, larger issues of marginalization and neglect by the central government long voiced by people in the region. Some had supported a movement of autonomy and self-determined governance; others saw the elections as a chance to rebuild the relationship between national and regional politics. Alone, one with or without the other.
My confidence wavering in infant level knowledge of the language, eklai stayed consistent throughout those interviews. A crutch for comfort, a filler and on-ramp into conversation. When I go back through recordings now, I hear it at every opening, amidst mumblings or shrieking horns, the click of a pen. Eklai; and then a breath.
When I returned from that trip, my colleagues at Nepali Times told me affectionately that they were confused by my use of eklai at the beginning of every interview. I explained my attempt at putting what I thought I heard into practice. We laughed, we spoke in English. It became a recurring joke, eklai.
Mostly humorous and humbling, part bittersweet. I found myself back in this frame of mind whenever I moved forward in the months that followed, looking to carry its spirit of self-deprecation and energy to unlearn and learn again, cognizant of my position in a place for a short moment.
Leaving, growing knowledge and still grazing at the corners of a place, still able to communicate in my own mother tongue, its loud footprints everywhere. Leaving, and imagining the infinite lives of a singular city, the constellations of words to hear them. I left, this honest gravity in my stomach dancing with the desire to stay.
Next month, I would find myself in Dharamshala, India, sitting in a circle of shopkeepers from Nepal. They were darting between languages, talking about an interpretation by some Nepalis about a recent speech that the Dalai Lama had made to a group of school children. Some thought they heard him say that the Buddha was born in India, and not Nepal—an enormous point of pride for the country. Many saw it as a misinterpretation by viewers, an overreaction so ridiculous that it was indeed hilarious. Others watched the video and noted a lack of clarity in the Dalai Lama's answer to a curious student. A lapse in the search for the right words.
My grasp of the language felt fainter, but still present, a fresh but unused tool, as I listened along. We exchanged pleasantries and chatter in Nepali. We were laughing.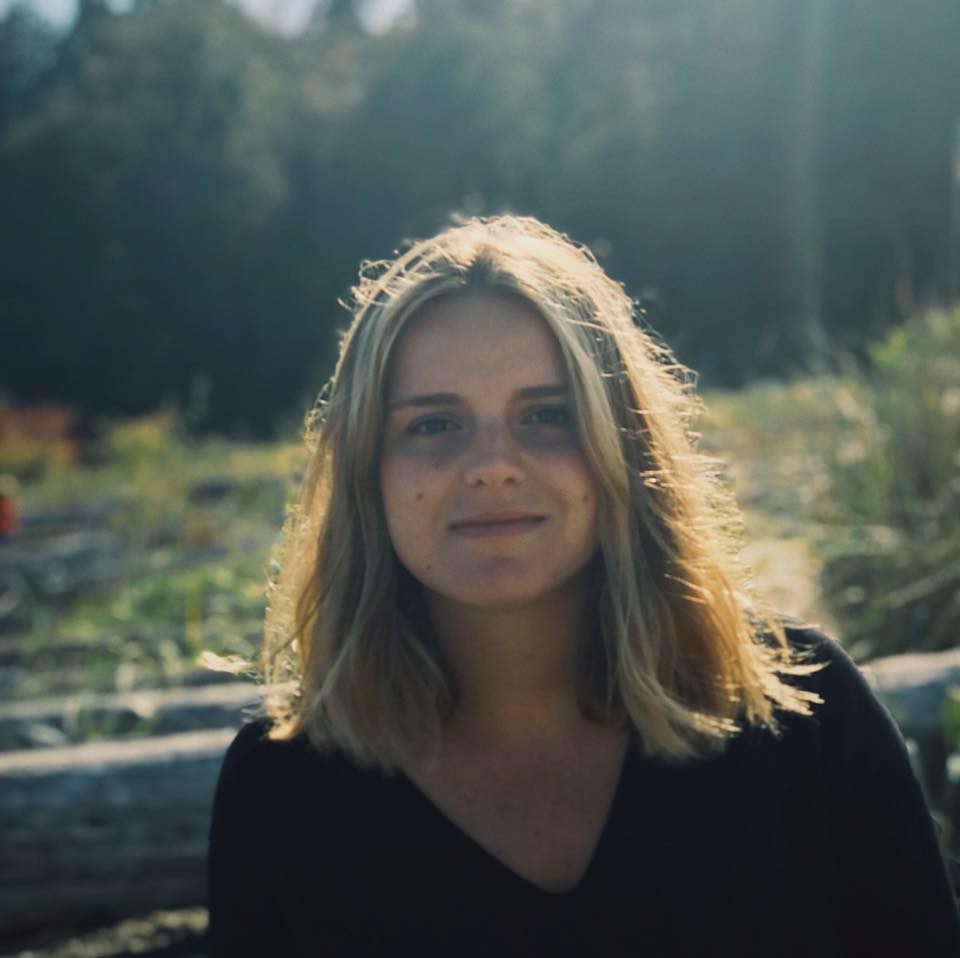 Julia Thomas is a freelance journalist and writer. Raised near Seattle, WA, Julia has always gravitated toward the written word and pursued stories by way of conversation. She received a Thomas J. Watson Fellowship 2017-2018 to explore grassroots media and reporting across Nepal, India, Zimbabwe, South Africa, and Ecuador, after studying history at Scripps College. Her writing has appeared in The Los Angeles Review of Books, Marie Claire Magazine, Vela Magazine, Nepali Times, teleSUR English, and Newslaundry, among others.
Header photo by Julia Thomas.