LA MOVIDA
LA MOVIDA
Spanish, noun.
The scene, the movement.
By Jed Gottlieb
La Integral takes up roughly the same space as a Dodge Caravan. Stuffed inside the Madrid record shop, a clerk and two friends drink cans of Mahou beer between racks of independently-released LPs. All three know my guide for the night: Jesús Ordovás, a Spanish hybrid of American rock critic Lester Bangs and British DJ John Peel.
After spamming Ordovás for a couple weeks, I'd convinced him to meet me a block from the shop. The 69-year-old in a black jean jacket and Elvis Costello frames looked more serious, more aloof, than I expected. Instantly, he seemed to be sizing me up, wondering if I was worth the effort. Then without warning, he turned down a side street and led me into La Integral.
A music journalist in my past life, I arrived in Madrid a few months ago with my Fulbright-scholar wife. She jumped into work; I stumbled through the city's record shops and bookstores chasing a nebulous, long-gone music era my guide book mentioned called La Movida. Spanish/English dictionaries translated the word "movida" alternately as "movement" or "scene" and colloquial definitions offered up "nightlife" or "party." A few unscholarly sites told me La Movida Madrileña ("The Madrid Scene") was the unbridled era of rock, hedonism, and left-wing politics that swept the capital after the death of dictator Francisco Franco's in 1975. I needed to know more. But I spoke lousy Spanish and no one has even written a book in English about the cultural movement. I needed Ordovás.
He lets me navigate the cramped space and chats up the trio by the register. The shop recently sold-out of copies of his latest book—his history of La Movida, Esto no es Hawaii—and he ribs them about drinking away the profits. The clerk smiles and pulls out of wad of cash, maybe 30 or 40 euros, and hands it to Ordovás. You can find the book in a few chain stores but the icon still personally consigns copies at this indie shop.
Thumbing through LPs of Spanish punk, Afro pop and underground funk, Ordovás explains the country had access to key rock records back in the '70s because censors couldn't speak English. They generally didn't ban Bob Dylan or the Beatles because they couldn't understand their calls for revolution. But Spaniards didn't have a scene of their own until La Movida. When Franco died, Madrid reveled in liberty and libertine chaos. Eschewing hippie beads and fringe, young people carved their hair into mohawks, suited up in denim, leather, and ripped Tees and indulged in a sexual revolution and lots of heroin at the dawn of the AIDS epidemic. They took over dingy bars and flats and street corners like hedonistic, manic-but-peaceful gangs. Between the sex and drugs, they formed punk and new wave bands in the mold of the Ramones, Police and Talking Heads.
Leaving the shop, Ordovás decides he will take me by subway to the neighborhood Malasaña, once the heart of the movement. He doesn't chit chat much but seems excited to show me his old haunts. He points out Penta, the bar that served as a sort of club house for bands forming in the late '70s. Now the place fades into a neighborhood filled with hip bars and shops selling craft capitalism from artisanal beers and vermouths to handmade jewelry and screen-printed t-shirts.
"It's different, no?" Ordovás says as he steers me toward a rock club a few blocks away.
I follow him down the stairs of Sala But as he explains tonight's headliner, Miguel Costas, started in this club before moving to the bigger hall above us in the mid-'80s. For tonight's show, promoted as his 35th anniversary in the scene, Costas is back in the smaller venue, a place with mirrored columns and touches of neon, part dance club, part time capsule. Around a thousand 40-somethings fill the club to celebrate his legacy. Costas, now in his mid-50s but still thin and handsome, dominates the stage like Joe Strummer in the '70s. With a fevered energy, his cult sings along to every hardcore chorus and raise their fists with each ugly, loud guitar riff. A few even recognize Ordovás and want autographs and selfies, which he happily obliges. The band and fans feed off each others' elation, but the concert echos what I saw in the record shop and streets of Malasaña—this is niche music steeped in the yesterday.
Most of the world has an inexhaustible appetite for glorifying pop's past. Journalists and academics examine major and minor figures from throughout the history of popular music. And artists who began half a century ago continue to be rewarded: Bob Dylan won the Nobel Prize for literature in 2016, the Rolling Stones will play football stadiums this summer, Serge Gainsbourg's life has been documented in half a dozen English-language biographies. Yet, the figures from La Movida barely matter at home and remain completely obscure abroad.
As Ordovás leads me back to the street to say goodbye, I ask him if he feels the show should have attracted more people. He doesn't seem to understand the question. It could be the language barrier, but he doesn't appear to be disappointed by the size of the crowd or the lack of millennials in the audience. Instead, he moves on explaining what has kept him so busy. His current book project will be a history of Spanish music just before La Movida broke; he is also developing a radio show that will play new talent. Ordovás will spend an equal amount of time looking forward as looking back. He will balance past and future.
Excess killed many of La Movida's heroes but some just quit playing music. A few weeks later at another Movida celebration, Ordovás will introduce me to Joaquín Rodríguez of Spanish punk pioneers Los Nikis. In the mid-'80s, fans considered Los Nikis the country's Ramones. Rodríguez is now a commercial airline pilot. To my American mind, this discovery strikes me as bizarre as finding out Joey Ramone has become a dentist. But in Spain, Ordovás and Miguel Costas are exceptions. Unlike America, where septuagenarians from Jimmy Buffett to Neil Young, Cher to Ozzy Osbourne still book tours, over here the urgency to keep the past alive at the cost of ignoring emerging artist doesn't have as much traction. And as I think about it, nostalgia is antithetical to the very spirit of La Movida.
I can jump on the subway outside Sala But but I tell Ordovás I want to take the long way home and walk through Malasaña to get back to my apartment on the other side of the city center. The concert ended around midnight and young Spaniards fill the neighborhood's narrow streets looking for another Mahau or vermouth. I duck into Penti and find it nearly empty. As best I can I try to find out if they ever have live music, "Hay música en directo?" The bartender replies "No."
After finishing half my beer, I head home. Walking through the city's central plaza, Sol, a sea of teens and university students fill the space streaming music through the distorted, tinny speakers on their phones. I can pick out Kanye West and Coldplay and a handful of rock and hip hop acts singing in Spanish. Everything sounds new, full of fury and promise. Everything sounds like I imagine that first blast of the Ramones, Police and Talking Heads sounded to Jesus Ordovás and Miguel Costas in 1978.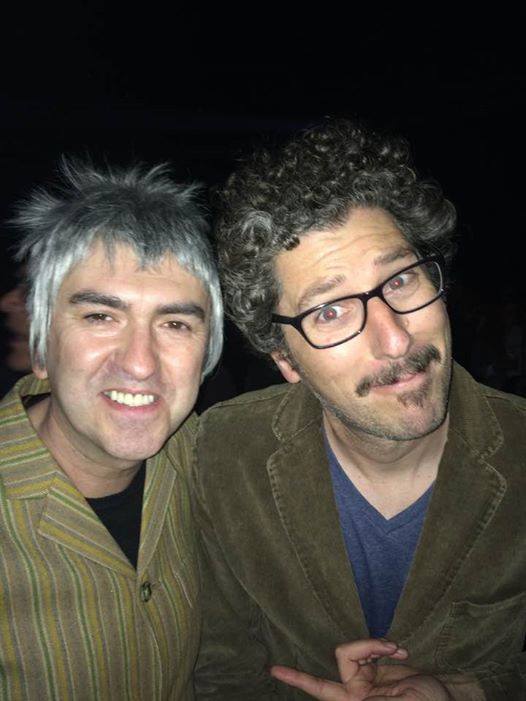 Jed Gottlieb spent nearly a decade as the senior music and theater critic at the Boston Herald and has written for Newsweek, Billboard, Fast Company, and the Columbia Journalism Review. Between 2017 and 2018, he spent 10 months in Spain writing, wandering and looking for more bands for his La Movida playlist. Follow him at @jedgottlieb.
Image: the author (right) with Alejandro Díez Garin of Los Flechazos, a Spanish mod band of the '80s.
Header photo by Jose Antonio Gallego Vázquez.